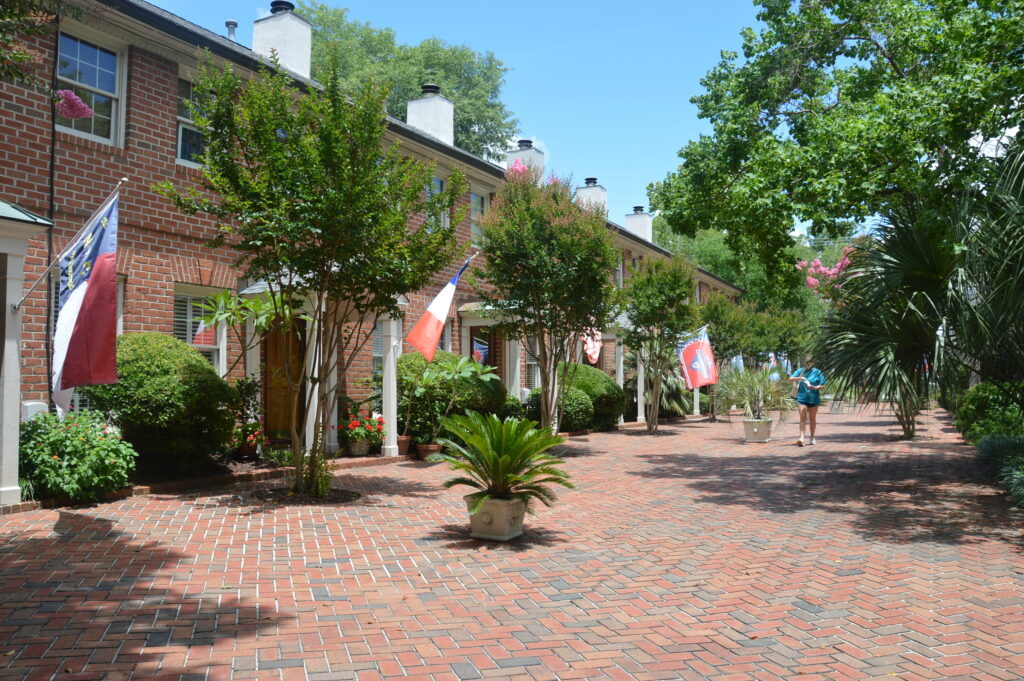 Wilmington Square condominiums are hidden gems in downtown Wilmington. They are small, only 1080 square feet, and somewhat dated, but the complex always looks neat as a pin with its courtyard of herring bone brick, and immaculately maintained landscaping. They were built well and have been well maintained. Now forty years after their construction they are still coasting along on a monthly association fee of $185 per unit.

They are on the right side of 3rd Street. Meaning you do not have to cross a busy street to walk downtown. That adds value. It's not a gated community in the since that there are locking gates, but it does have a formal courtyard with attractive brick and wrought iron fence along 3rd Street. So, it does not lock the rest of humanity out, but it does define its own turf and deter casual trespassing.
All the units are two stories with two bedrooms. Unless any unit has been significantly altered in some way I am unaware of, they are all the same size with the same floor plan. The downstairs consists of a living room, eat in kitchen, half bath and stairwell in between, two bedrooms upstairs, one in front, one in back with a shared bath in the middle. They each have a functioning fireplace in the living room and a small brick patio area in back adequate for grilling out or entertaining a small group. And every unit has an assigned parking space in a lot accessed from Nun Street.
The living room area is small. Of the units I have been in over the years people tend to use too much furniture or furniture which is too large. Keep it minimal and you will be fine. They do have working fireplaces which is not always the case in Wilmington. The winters are mild and functioning fireplaces tend to be expensive ornaments.
The unit I went in for the purposes of writing this article did not appear to have any upgrades from how it was originally appointed. The finishing details were dated and were never intended to be high end. That said there are very nice oak floor throughout.
There is a half bath conveniently located between the living room and kitchen, opposite the stair well. The kitchen is certainly adequate for the size of the unit and there is space for a table. There is no formal dining area.
Up the stairs to the second floor there is a full bath off the landing and a bedroom in each direction one face the front of the building and one facing the rare. There is a linen closet in the hallway opposite the bath. The front facing bedroom is considered the master and measures 16'9" x 8'9" with a small reach-in closet with sliding doors inset above the stairwell area. It has three windows overlooking the courtyard. The rear facing bedroom loses a little width to two reach-in closets on one end of the room, again with sliding doors, leaving overall measurements of 14'3" x 9'3" with two windows to the rear overlooking the patio.
Current listings for Wilmington Square (if there are any at this time)
**REMEMBER** If you are interested in this building, or any other and there are no units currently available, I'll be happy contact all of the current owners to see if anyone would be interested in selling. This can be a surprisingly effective approach.